Many patients who have selected dental implants describe a quality of life that is much more comfortable and secure than the life style endured by those with removable dentures.  Dentures often cause embarrassment in social situations when they slip or click, and restrict the everyday pleasure of eating comfortably.
When they count the benefits they enjoy as a result of their dental implants, patients say their implants eliminate the day-to-day frustrations and discomfort of ill-fitting dentures.  They allow people to enjoy a healthy and varied diet without the restrictions many denture wearers face.  With a sense of renewed self-confidence, many people rediscover the excitement of an active lifestyle shared with family and friends and the chance to speak clearly and comfortably with co-workers.  For all these reasons, people with dental implants often say they feel better, they look better, and they live better!
Years ago, patients in need of a solution to replace missing teeth and restore their smile and ability to eat had no other alternative than fixed bridges or removable dentures.  Today, dental implants are growing in popularity to restore an award-winning smile.
Unlike removable dentures or fixed bridges that use adjacent teeth as anchors, dental implants are a long-term replacement surgically placed in your jawbone to give you a beautiful smile.  A dental implant is a small titanium post which is inserted into the jawbone and acts as an anchor for the replacement teeth.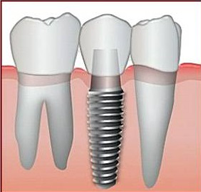 A patient who decides to have dental implants should have a consultation with their general dentist to determine what will be placed on the implant(s) such as: a single tooth crown, a bridge, or a denture.  Next, Dr. Kingston would see you for a consultation regarding the procedure, anesthesia and implant placement.
Most patients choose to do dental implants in two stages.  The first stage is the actual placement of the implant(s) into the upper or lower jaw.  Following the surgery, it is then ideal to wait three to six months for the implant to gradually bond or integrate into the bone.  You should be able to wear a temporary flipper or denture to replace the teeth and eat a soft diet during this time.
The second phase is to uncover the implant and place small posts or abutments which attach onto the implant.  This abutment will hold the artificial teeth placed by your dentist.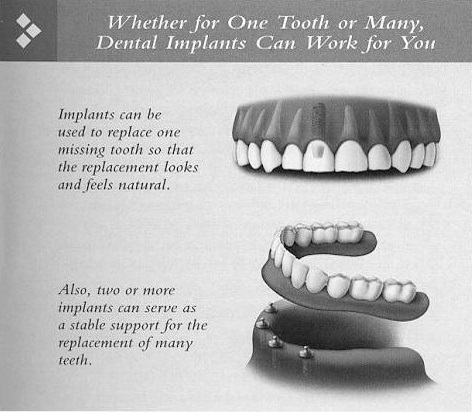 Contact the office today to schedule an appointment for dental implants…to
give you a smile you can show off.